Open Mic
In 2021, Kevin Parry celebrated a milestone with 30 years of Open Mic in Brattleboro, making it Southern Vermont's longest running Open Mic show!
Open Mic runs every Monday from 6:00 to 8:00 p.m. at the River Garden Marketplace.

River Garden Marketplace
157 Main Street
Brattleboro, VT 05301
Sign up in person after 5 p.m. on Monday or online here!
Hosted by Kevin Parry
Open Mic Guidelines
This is an acoustic Open Mic for musicians only. We do not feature poetry, comedy or karaoke. We discourage the use of pre-recorded backing tracks of any sort. Our audience wants to hear live music only.
We provide microphones and direct inputs for acoustic instruments. If you would like to use electric guitar, bass or keyboards please bring a small amplifier. Due to volume limitations we cannot have drum sets. Hand percussion is OK.
You may sign up for one 10 minute slot per week (times are approximate). Your time includes set-up time, so we encourage you to tune your instrument before you take the stage If you have electronic gear please have it set up ahead of time. This might be a good time to leave the pedal board at home. In general, you should have enough time to play two full songs with a little banter in between. Depending on how many people show up you may get extra time.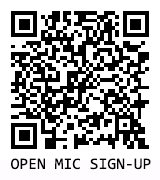 Sign up after 5:00 in person on the day you want to play or use the on-line sign up.
If all the slots are taken you may still be able to play if someone doesn't show up or has to cancel at the last minute.
To sign-up online for a slot, click here!
For more information, e-mail Kevin Parry at parrykevin@hotmail.com